November 8th 2021
Meet the friendly faces creating Derbyshire's newest village near Chesterfield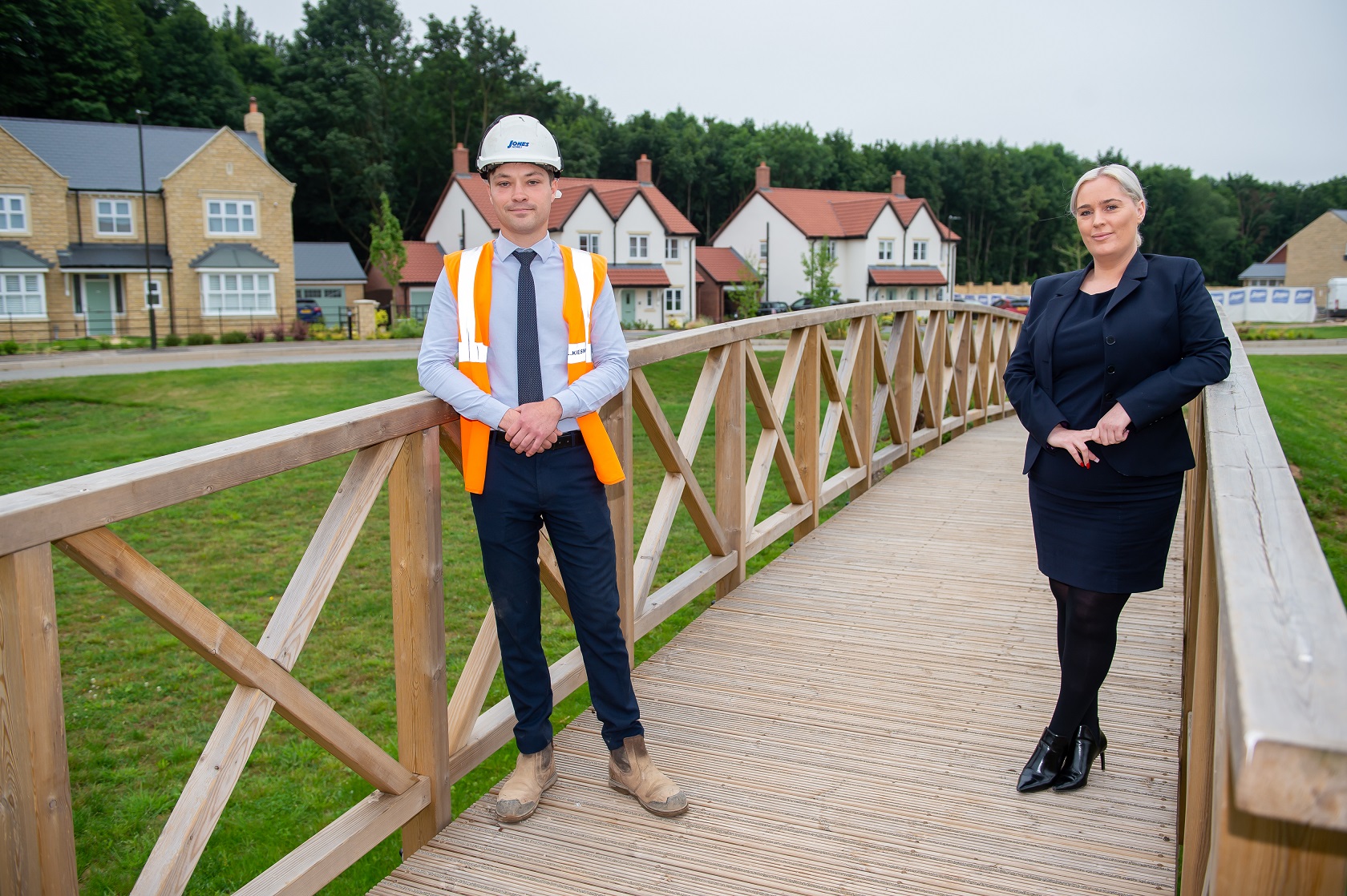 Jones Homes has introduced a new team to lead the creation of Derbyshire's newest village.
Site manager Liam Kieswetter and sales advisor Rebecca Simmons are working together to ensure Van Dyk Village, off the A619 between Bolsover and Clowne, becomes a model for new village design.
The village of 58 homes is located on the former Van Dyk garden centre site. The land is thought to have been home to agricultural workers as far back as Roman times and from the 18th century it housed staff from Southgate House, now the Van Dyk Hotel.
Today the hotel is thriving, its recent regeneration funded by the sale of the land opposite to create Van Dyk Village.
Liam, 25, is tasked with overseeing all aspects of the building of the new village. He said: "Building new homes is a huge responsibility and even more so when the brief is to deliver a new village.
"The homes have been designed to appear as though they have been built over a long period of time, with different styles in different areas of the site. There will be a grand Manor House viewable from the site entrance and we are creating a village green as a focal point.
"The varying styles of architecture, along with Jones Homes' exacting designs, mean this is a much more challenging build process and precision is key. There are large, spacious interiors with high ceilings, as well as oak doors and staircases.
"We take our time and take care to ensure every detail is correct. As a site manager, it is especially satisfying to have that opportunity."
Liam joined Jones Homes three years ago and has been site manager at Van Dyk Village since the spring.
He said: "I have a lot of interaction with our customers as I am their main point of contact once they have moved in. I really enjoy this aspect of the job as I get to ensure buyers have a trouble-free experience and am at hand if they need anything.
"I meet with buyers several times before they move in to show them what stage we are at with construction, taking them through the drawings and making sure they are 100 per cent happy."
Rebecca, 39, is the public face of the development, leading the sales operation. With over nine years' experience in the housing industry, she joined Jones Homes five months ago.
She said: "I have loved working at Van Dyk Village for the last few months. I believe in Jones Homes' product which makes my job so much easier, as I get to sell pristine houses which truly have the wow factor.
"Visitors to the village are blown away by the stunning five-bedroom show home and high-quality properties on offer – all of which are part of our distinguished Signature Collection.
"We take our customers on a journey which is magical to witness, involving them from the beginning with the progress of the build, right up until handing over the keys on the exciting move-in day.
"Liam and I inspect the houses once they are complete to ensure they are in a perfect state to hand over to buyers. We put ourselves in the shoes of the customer, asking ourselves if we would be happy with the property and be proud to live in it – and we don't settle for anything less."
With the first phase of homes now occupied, Van Dyk Village is really starting to feel like a village.
Rebecca said: "It's been so lovely watching a close community start to form here. The residents get along so well – they go to the gin bar together at the Van Dyk Hotel at the weekend and stay in contact regularly via their WhatsApp group chat."
There is currently a selection of five-bedroom homes available to purchase at Van Dyk Village, with prices starting from £629,995.
Rebecca is happy to show people around the new development and appointments are available from Wednesday to Monday. To get in touch, call 01246 938387 or click here.
Rebecca is happy to show people around the new development and appointments are available from Wednesday to Monday. To get in touch, call 01246 938387 or visit jones-homes.co.uk.