October 27th 2020
Last chance to buy at Appledown Grange in Marden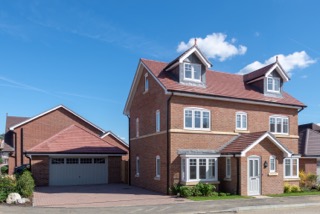 Construction work has ended at a new housing development in Marden, where time is running out for house-hunters to secure themselves a home.
Jones Homes Southern has sold all but three of the 44 homes being built at Appledown Grange, situated just off Howland Road.
There's a choice of four and five-bedroom detached houses still available – two four-bedroom Hollin house types and one five-bedroom Hamilton – with prices starting from £542,500.
Sales and Marketing Director for Jones Homes Southern, Sara Stanhope, said: "The homes at Appledown Grange have sold at a good rate since they were first launched, with many housebuyers finding their perfect place within a new neighbourhood that has the advantage of being much smaller than other developments in the area.
"The fact that Appledown Grange only consists of 44 homes means that there is already a close-knit community of residents here and this has grown as more people move into their new homes. There's a lovely neighbourly spirit here that's clear to see.
"Buyers here love Marden's peaceful yet well-connected village setting, with great local amenities and good road links to Maidstone, eight miles away, and Tunbridge Wells, 14 miles from home. Meanwhile, Marden railway station is just over half-a-mile away with direct links to London Charing Cross and Ashford International.
"With only three houses left on the market at Appledown Grange, I would urge anybody who is interested in moving here to act fast, as we do not expect the homes to remain available for much longer."
As part of the planning agreement for the development, Jones Homes is investing more than £30,000 in S106 contributions to make improvements to the local area.
These contributions include over £10,000 for healthcare, over £5,000 for libraries, over £9,000 towards Marden railway station improvements and almost £6,000 for education.
For more information, visit jones-homes.co.uk.