May 24th 2022
Couple make a fresh start with new home 250 miles away
Young couple Rosie and Luke Crumley have made a fresh start in Kent after moving 250 miles away from their home in Cornwall.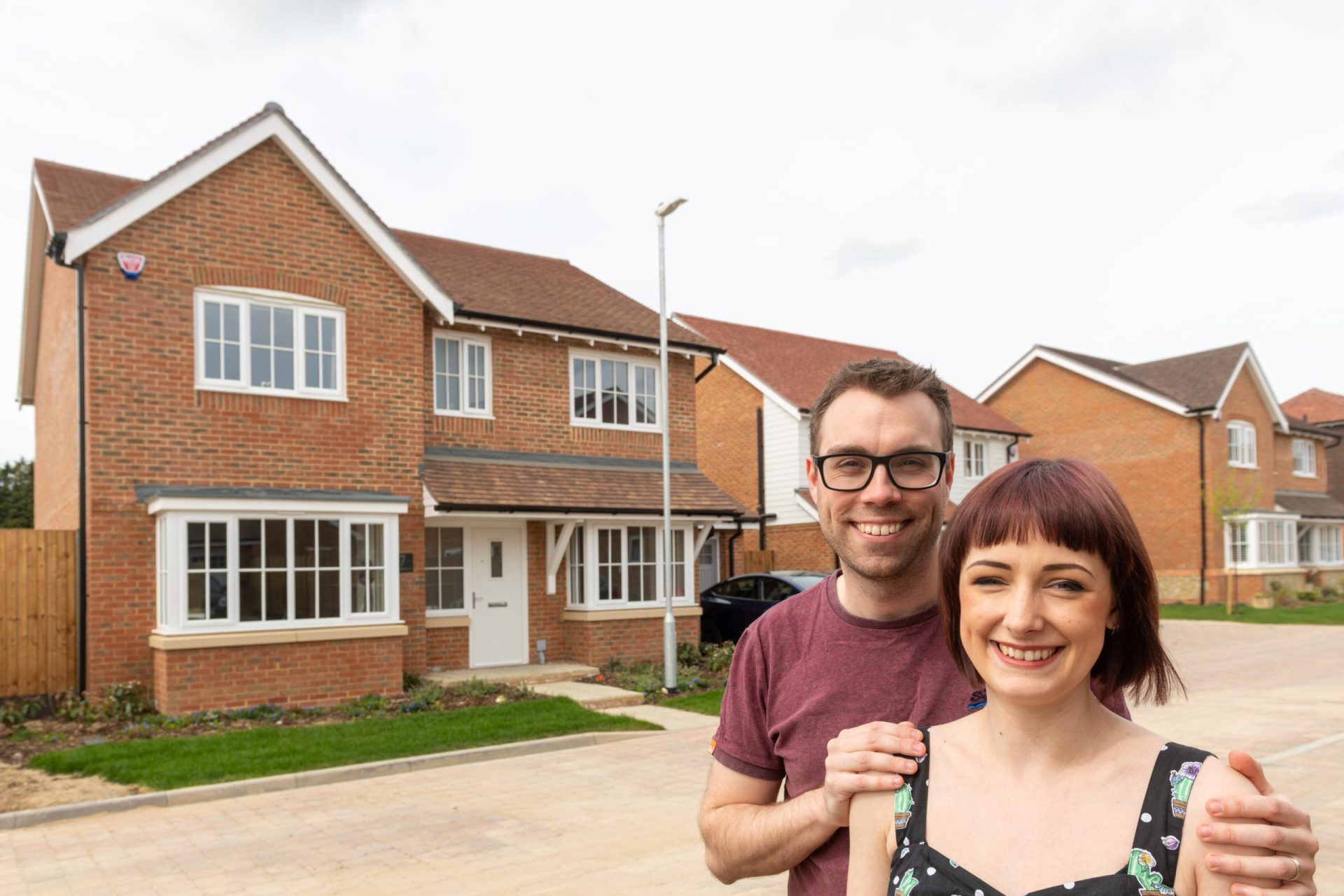 The pair decided to uproot from Bude, Cornwall, and purchase their first house together at Jones Homes' Westwood Park development in Lenham, Kent, near where Luke grew up.
Rosie, a 27-year-old self-employed dressmaker, and Luke, a 33-year-old software engineer, moved to their new four-bedroom detached house so they could be closer to family and friends in Maidstone.
Rosie said: "A lot of our friends live in Kent and Luke has his whole family here, so we wanted to move to be closer to them. I'm sad that I'm not living close to my parents and sister anymore, but we can visit Bude whenever we like – we've been back once already!"
Rosie and Luke, who met at a jive club and have been together for seven years, had been looking to buy their first home as a couple for a while.
Rosie commented: "We previously lived at my house in Bude but were keen to buy a property together. We probably looked at over 20 different homes, both in Cornwall and Kent, but nothing ticked all our boxes like this one at Westwood Park."
The couple ended up purchasing the Bayswater house type after discovering it on Rightmove. They reserved the home straight after viewing it in January this year and moved in just under six weeks later.
Rosie, who handcrafts and sells skirts for her company Rosie's Handmade Originals, says the large bedrooms were the main selling factor.
She said: "I needed a large space to spread out all my sewing materials and Luke needed an office space as he works from home permanently, so to have four large bedrooms was perfect.
"The development itself also won us over. Unlike other new-build estates, the houses aren't crammed in together at Westwood Park and each home is spaced out with large driveways. We weren't necessarily going to buy new but I'm glad we did."
Now having settled in, the pair are enjoying the differences between their new home and their previous property in Bude.
Rosie said: "We had no garage or garden before, so it's great having both of these now. The house is situated on the corner of the development so we're lucky enough to have a really good-sized garden. I love gardening and have enjoyed getting outside in the sunshine to make a start on it.
"Luke's turned the downstairs office into an Xbox room which he's enjoying a lot, but the open-plan kitchen and dining space has to be our favourite part of the house. We previously had a separate dining room, but open-plan is definitely our preference as it flows better and is ideal for hosting.
"We also prefer the location here. Bude is great but there's not a lot going on there, and as young people, we want to be out and about doing things.
"We've started exploring the village which is really pretty and everyone we've met has been friendly. I've particularly enjoyed going to the country market each month which has a great range of stalls. We're also near to the A20 which is handy for getting around, especially to Maidstone and Ashford."
The couple are enjoying being closer to friends and have invited them round to see the new house.
Rosie said: "The main thing everyone says when they visit is how much they love the garden and open-plan kitchen.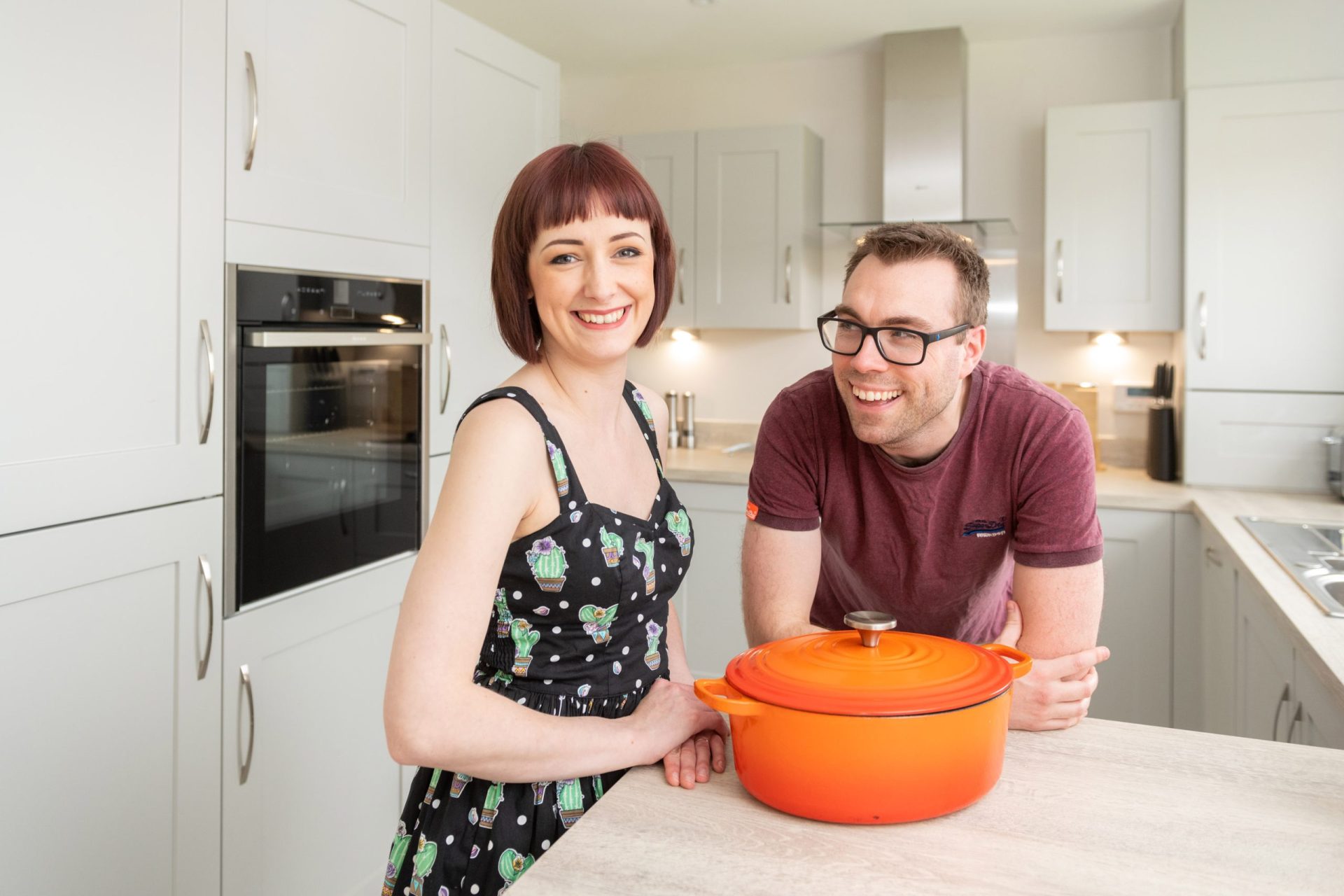 "Buying with Jones Homes has been an easy process and we can't fault the customer service at all. We are enjoying this fresh start in our lives and are excited to continue making the home our own – I can definitely see us staying here a long time."
To view the current availability at Westwood Park, please click here.