October 25th 2021
A walk with the dog leads to new way of life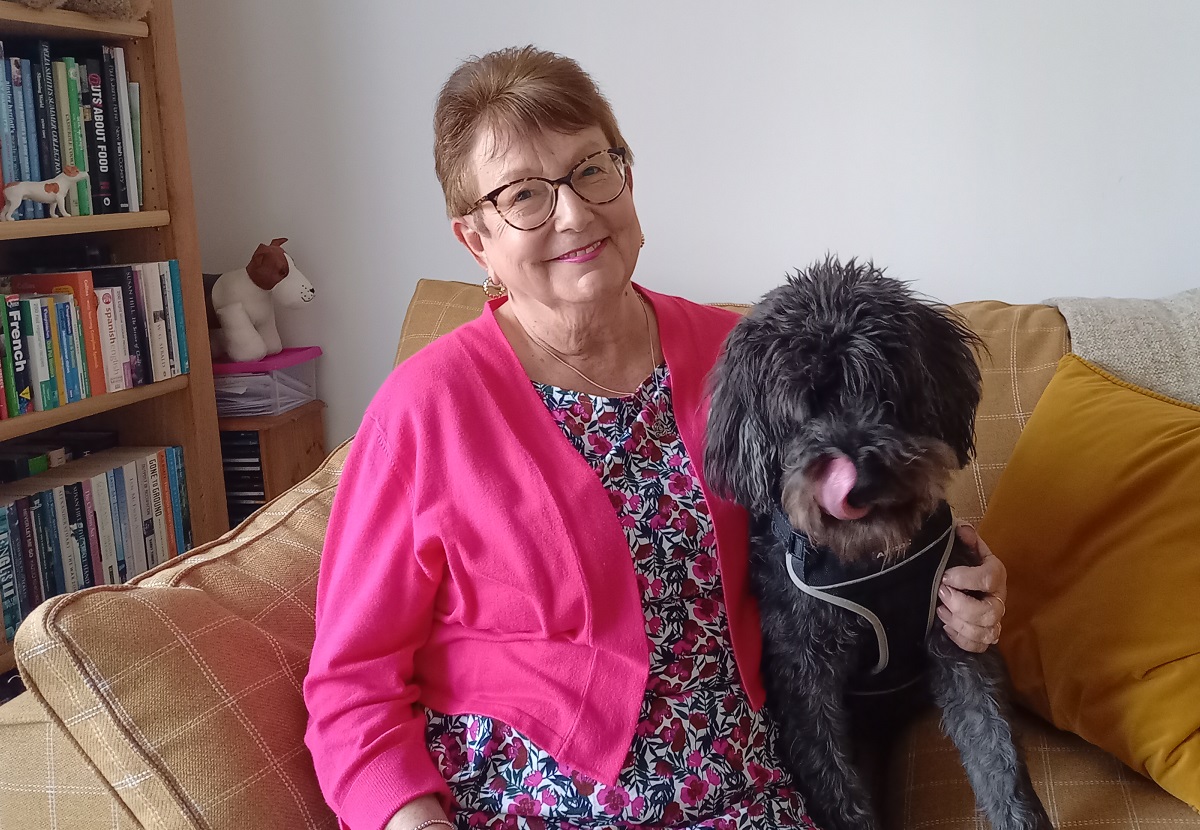 It's a new way of life one Bolton resident
It was thanks to the need to exercise her canine chum Toby, that Christine spotted a sign advertising homes for sale at Jones Homes' Last Drop Village in Bromley Cross. She's now living a stress-free life, after down-sizing from a five-bedroom house to a two-bedroom home within this exclusive gated community made for the active over 55's.
Christine's Story
Toby has been Christine's constant companion since she got him as a puppy six years ago, and has helped keep her going after her beloved husband David died last year.
"I only lived a mile away so knew about the development but had never considered it as a place to move to," said Christine, 69.
"When I saw the sign, it got me thinking and as the development was right next to the field we were in, I walked onto the site there and then with Toby. I went into the sales office and made an appointment to go back at a later date to talk about what they had to offer in the way of houses that might suit me."
"One of the first things that struck me was that it was gated community which immediately gives you a greater sense of security," she said. "This means that when I go away on holiday, I will not have the nagging worry at the back of my mind about whether the house is safe.
"There is a team on site who will look after your house when you are away which gives great peace of mind. It's nice to know that and it's one less thing to have to worry about."
Christine put her five-bedroom home on the market and reserved a two-bedroom Osborne home at Last Drop Village.
"My husband and I had lived in the old house for 35 years but, after he died, there was just no need for me to be living in such a large house on my own.
"I had been keeping an eye out for a bungalow but then Last Drop Village became the focus. I reserved an Osborne – a lovely two-bedroom cottage. The sale of my house fell through twice but the team at Jones Homes stuck with me and made sure that I did not lose the cottage. It was a very stressful time and to have that reassurance from them was very much appreciated."
Christine and Toby today
"I absolutely love it," said Christine, a former English teacher. "The houses are all very well-built and mine has a real feeling of space and light inside.
"The open-plan kitchen/dining room design downstairs is perfect for me. The other day I had friends round and they were able to sit and chat with me as I prepared the food. I can see me spending a lot of time in there.
"There is so much about this new house that suits me. There are two large bedrooms upstairs with en suites. The master bedroom, which is bigger than the one at my old house, has patio doors out onto a balcony where I have put a table and chairs.
"The balcony overlooks the courtyard which is a fabulous space to relax and spend some time. The paved area is bordered by flowers and there is small lawn which is a hit with Toby."
It's a lifestyle choice at Last Drop Village
Residents can access facilities at the Last Drop Village Hotel and Spa at a discounted rate. There's a restaurant, pub, swimming pool, gym, spa and shops.
"The facilities are impressive – I love the card shop and there is a nice little café where I have popped in for coffee and cake.
"The neighbours I have met are friendly and everyone I meet has time to stop and chat. People like Toby and being able to have him live with me was obviously essential. They welcome well-behaved pets here which is good to see.
"What is lovely is that I can walk Toby on the development or we can just stroll off into the fields next door. I have so much more time on my hands now but I'm spoiled for choice about what to do each day."
The Jones Homes sales team are on hand to help
"They were absolutely marvellous," she said. "Linda, in particular, was fantastic.  She spent a lot of time with me. I was able to choose kitchen tiles, wardrobes and carpets and she was very patient. She also made sure I understood the whole process and explained it all step by step.
"They are a great team and it is reassuring to know that they are still only a phone call away if I need them in any capacity."
For more information about homes at Last Drop Village in Bromley Cross, call 01204 859003 or visit jones-homes.co.uk/sanctuary-last-drop-village