Customer Care Technician
Salary

Negotiable

Region

Yorkshire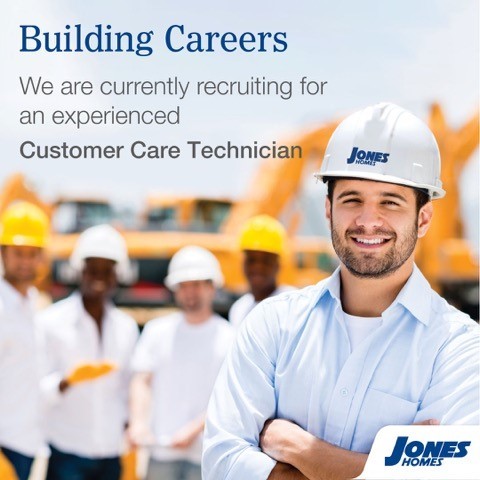 Experienced Multi Skilled Customer Care Technician Vacancy
Covering sites across the Yorkshire region
About Us
We are Jones Homes, one of the nation's leading independent home builders. Part of the successful, family-run Emerson Group, we have been creating beautiful new homes in exceptional residential locations since 1959.
Currently, we are building more than 500 homes a year in the UK and offer an impressive portfolio of apartments, mews and townhouses, as well as spacious semi-detached and detached homes.
We have built an enviable reputation for delivering outstanding services and have an HBF five star rating for our customer service. We've also received a number of prestigious accolades over the years for the properties we build, the design and landscaping of our developments and our talented team.
We are currently looking for a Customer Care Technician to join us in Yorkshire
The Benefits
– Competitive salary
– Company Van & Fuel Card
– Uphold the reputation of a respected business with an impressive history
The Role
As our Customer Care Technician you will rectify defects reported by purchasers within the Jones Homes and NHBC warranty periods, and continue the company's commitment to the customer journey.
This role would suit someone who has previously worked in a similar role or an experienced multi skilled tradesperson who is accomplished and able to produce a quality finish when undertaking various tasks ensuring our purchasers receive high levels of service and satisfaction.
Key activities/responsibilities:
Attend appointments as scheduled by Customer Care Team
Undertake a broad range of repairs
Maintain a smartly presented, polite, diligent, positive and professional attitude at all times; demonstrate knowledge and build customer confidence
Manage customer expectations
Manage materials in preparation for visits
Ensure customers homes are adequately protected prior to commencing works
Maintain a safe working environment
Communicate with the Site Office and Customer Care Team at HQ to update, report delays, advise if specific parts may require ordering to complete a successful repair
Escalate/report difficulties as a matter of priority to Customer Care Manager
Feedback patterns of design/specification issues to Customer Care Manager
Maintain a clean, tidy and organised van
About You
To join us as our Customer Care Technician, you will need:
Experience in a similar role or domestic/social housing
A diploma in Building Construction or an NVQ level 2 or similar or City & Guilds in relevant trade
Driving Licence
Experience in the following trades, Joinery, Plumbing, Tiling, General Decorating, Plaster Patching, Mastic Sealing
A general knowledge of construction
Good planning and organisational skills
A polite, tactful and assertive attitude
Patience and calmness under pressure
Excellent communication skills
Good team working skills
Flexible and adaptable to changing requirements
A professional or industry-relevant qualification (such as SSMTS, CSCS or First Aid) would be beneficial to your application.
Working hours: Monday – Friday, 8 am – 5:00 pm
No Employment Agencies please.
Jones Homes are equal opportunities employers, value diversity and are strongly committed to providing equal employment opportunities for all employees and all applicants for employment. Equal opportunities are the only acceptable way to conduct business and we believe that the more inclusive our environments are, the better our work will be.
Please send your CV and contact information to Jonathan.Forrest@emerson.co.uk
Send Your CV